We are your partner to realize your ideas, from design to production. Our dedicated team of materials experts, process engineers and manufacturing specialists will join your product development team all the way to manufacturing and end-of-life services.
Your expectations are our guiding principle. We initially help you determine the best materials, their functional behavior and the most reliable manufacturing methods that will deliver optimum results in the function of the component, its quality and cost, to the benefit of your bussiness. And during this customer journey we strive to continuously improve our services and processes and thereby continue to raise the bar.
Powder is our starting point. Ceramic and metal powders enable us to engineer a complete and advanced solution. Our expertise ranges from combining powders, shape them and consolidate to the final material properties and dimensions. Through our different divisions, we can fully adapt to meet your technical requirements while applying the most reliable manufacturing method, from powder to part.
Discover what we can offer you and choose the best approach for your products
Producer of ceramic and metal parts for high-tech industries and exclusive consumer goods
News & Events
Our latest news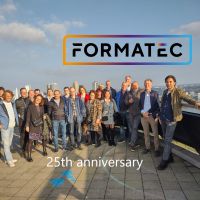 News
October 1, 2021
Formatec celebrates its 25th anniversary
Find out where you can meet us